On December 1, we will be auctioning a signed copy of EarthBound, autographed by the game's creator, Shigesato Itoi. The cartridge bears the first known instance of Shigesato Itoi's English autograph.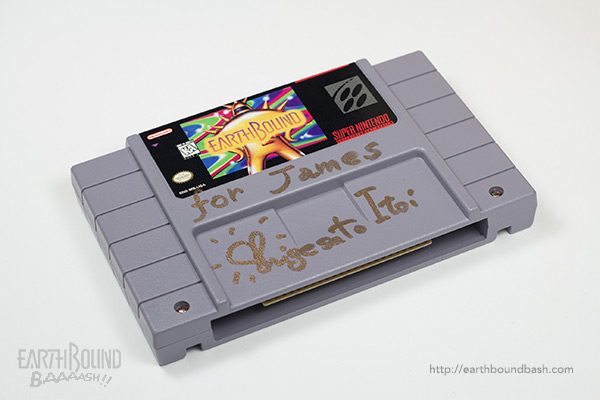 The cartridge originally belonged to James Hensiek, who gave it to his coworker Ben Bizzle as a gift. When James was later diagnosed with cancer, Ben decided to auction the cart and donate the proceeds to James.
Ben reached out to the community with his story in late 2012 with a post on the Starmen.Net Forum. After several months of calls, emails, logistics, and help from Lindsay Nelson, the cart was handed off to the staff at Fangamer and then passed along to Hobonichi, the office of EarthBound creator Shigesato Itoi.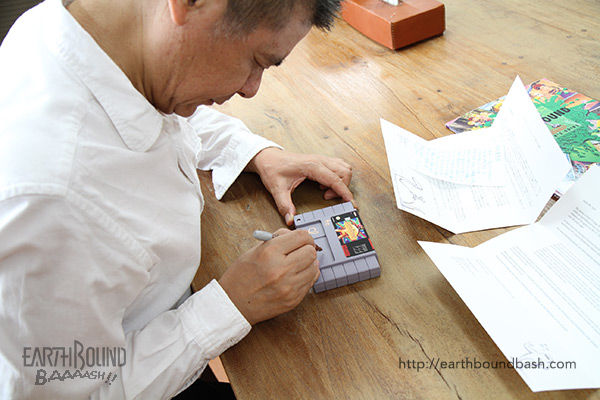 The signed cartridge is part of a complete set which includes the game manual and box, all three in excellent condition. Fangamer will be auctioning off the game after they defeat Giygas on the last day of the EarthBound Bash (around 8pm Eastern on Sunday, December 1, 2013).
The auction will be structured as a "cutthroat auction", which means that every bid will be donated, regardless of whether the bidder wins the item or not. (So for example, if someone has donated $200 and another donor sends in $300, the total raised will be $500, but only the $300 donor will get the cartridge.) The auction/donations will be taking place live on http://earthboundbash.com and all donations will be processed through Paypal and sent directly to James and his family.
Thanks again to Lindsay for her critical role in the project, Mr. Itoi and his staff for cooperating so generously, and you to all the EarthBound fans who join in, spread the word, and bid — you're as exceptional as we expected you to be!